Point of Sale Displays
What is Point of Sale Display?
The phrase 'point-of-sale display' covers a huge range of printed promotional materials.
Point of sale display refers to any graphics placed in a prominent position in a shop, supermarket, wholesale outlet, petrol station or garden centre that aim to encourage customers to make a purchase.
Cleverly-designed signs and displays can make a big difference to your sales figures as they give you the chance to say what's so good about your products – they can do the selling for you!
Point of Sale Display Ideas
CSDPrint has been producing high-quality retail and wholesale point-of-sale items for over 30 years. During that time we have seen some very effective in-store promotions.
Here are a few tips that might help you maximize the appeal of your products and in turn boost your sales revenues.
Clear pricing
This is crucial! Make sure it's accurate and easy to see. Shelf edge strips next to your products are ideal.
Offers
Need to be genuine and easy to understand. Shelf edge wobblers are great for this.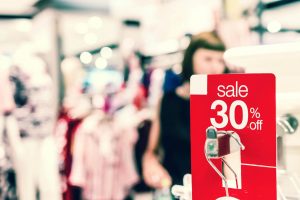 Product benefits
Highlight a couple of key features i.e. bigger pack, longer lasting, saves time, sustainable. These could be used on dump bin designs or strut cards
Impulse
Make seasonal or low price items a 'no brainer' with highly-engaging promotions next to the cash desk. Compact free-standing display units with direct call to action messages and 'last chance to buy' offers work well.
Inform
For higher value purchases customers often need to understand more about your product and its features. A well-designed leaflet or brochure can help explain and persuade.
Point of Sale Display Materials
Our point-of-sale graphics are all printed using the very highest quality materials. We always stock a large range of different substrates – including all the latest eco-friendly alternatives – so we can print and deliver exactly what you need, when you need it.
Here is a quick guide to the most popular materials we print onto. We hope it helps you choose the best material for you but if you are unsure, please get in touch. We are happy to discuss any aspect of your point-of-sale display printing requirements.
What is Poster Paper?
We use a range of different thicknesses of paper for printing our posters. They are all top quality and have either a matt or gloss finish.
We print in full colour and can achieve extremely high quality thanks to the precision of our digital printing equipment.
In fact, the high-definition images we produce are photo quality. We get great feedback from our fashion retail and garden centre clients who often incorporate large product photos in their point-of-sale designs.
What is Self-Adhesive Vinyl?
Vinyl is a synthetic material that is tear-resistant and weatherproof. It is a type of plastic that is made by mixing ethylene and chlorine. The resulting Polyvinyl Chloride (PVC) resin is called Vinyl.
We use a variety of thicknesses of self-adhesive vinyl depending on the end use for example thinner, low tack vinyl for window displays that are to be updated regularly and much thicker, high tack vinyl for permanent point-of-sale applications such as signs.
What is Boxboard?
Boxboard, which is also called folding boxboard, is a layered paper board. This lightweight, stiff material can be scored and bent without fracturing. We use it for making display cubes and boxes.
What is SolarDuo?
SolarDuo is a new type of paper board that is already proving to be very popular for point-of-sale applications because it can be printed on both sides, scored, cut, creased or folded. It is 100% recyclable.
What is Correx?
Correx printing is very popular point-of-sale displays on to because it is low cost, really durable, lightweight and hard wearing. Made up of three layers, Correx (or corex as it is sometimes known) looks a lot like plastic cardboard because it has a corrugated centre with two flat outer layers.
What is Kapa?
Kapa is a very lightweight foam sheet which is fantastic for printing onto. It is often specified for printing point-of-sale advertisements on that are to be mounted into frames or to be hung from ceilings.
What is Dispa?
Dispa is a new 100% recyclable paper board that is very lightweight and is therefore excellent for hanging point-of-sale. It has an embossed formed paper core which gives Dispa its strength and rigidity.
PolylineBubble
Another new, 100% recyclable material PolylineBubble can be used as an alternative to Correx. It is strong, lightweight and its smooth surface makes it an excellent choice for retail advertising. PolylineBubble is available in a range of thicknesses.
What is Foamex?
Foamex is expanded vinyl sheeting. It is made from compressed PVC foam. Extremely light and durable, foamex printing is ideal for display purposes.
What is PolylineFoam?
PolylineFoam is an environmentally friendly alternative to Foamex. It's strong, rigid and scratch resistant as well as 100% recyclable.
What is Acrylic?
Acrylic is a transparent, lightweight plastic. Also known as acrylic glass or plexiglass, we can print any design onto these rigid, shatterproof, hardwearing sheets. We can also heat bend acrylic to form boxes, shelves and leaflet dispensers.
What is Dibond?
Dibond is the brand name of an aluminium composite sheeting that we use for larger and longer-lasting displays and signs. Lightweight and rigid, it consists of a flexible polyethylene core sandwiched between two thin aluminium layers. It has a high-quality shiny or lacquered finish however a matt laminate can also be applied if required.
Point of Sale Displays: Pure Collection Case Study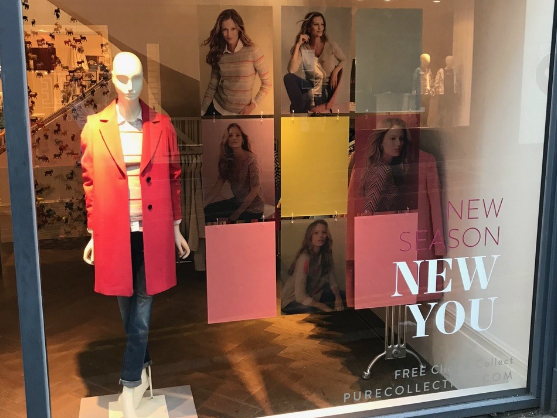 Pure Collection were looking for a hands-on print partner who could guarantee exceptional quality.

CSDPrint's Point of Sale Display products include:
| | |
| --- | --- |
| Posters | Any size, single or double-sided promotional poster printed onto a wide range of papers including high performance poster paper, plasticised papers or fabric |
| Vinyl window graphics | Self-adhesive and self-cling stickers and window signs up to virtually any size and any shape including cut outs and lettering – great for retail window displays |
| Promotional stickers | All kinds of vinyl stickers ranging from small price and discount labels to large logos and even whole wall graphics |
| Vinyl floor graphics | Large adhesive vinyl graphics of any size or shape for carpeted, wooden, tile or polished concrete floors |
| Point of Sale display units | All sizes of custom made, free-standing shop display stands including compact counter top units, leaflet dispensers, catalogue holders and free-standing product shelving. Fabricated using a large range of materials including Kappa, Foamex and Acrylic. |
| Point of sale display cubes and boxes | Any size, can be individually fabricated using Acrylic and Foamex or can be large quantities of Box Board cubes produced on our digital CNC cutter using cutter guides |
| Point of salesigns or branded signage | Options include: acrylic, translucent backlit, illuminated and non-illuminated flex-faced & tray, exterior & interior hanging, pavement, indoor & outdoor wayfinding and free hanging |
| Point of sale hanging displays | All sizes of hanging display signs and hanging boards. These are printed using light weight foam board such as Smart-X and Kappa. Wires, Ribbons, rope, chain and S hooks can be supplied to suspend your hanging displays. |
| Point of sale display stands and graphics | Including: strut cards, header cards, small special offer strips, PVC shelf wobblers, gondola end promotions, display boards, dump bins and pallet wraps. |
Get started with your Point of Sale Display
Now you know all about your different Point of Sale Display options, get in touch using the form below or give us call.
That's a lot of choice but we can always source more if you are looking for something a bit different!
"Fantastic attention to detail throughout from design implementation and printing to installation."

"We have worked with CSDPrint for many years now and always find their commitment to getting a job done on time and to the right standards really impressive. If we need any advice about any aspect of printing we know we can always turn to CSDPrint."
Talk to us today!
If you'd like to get in touch then you can use our simple contact form, please complete all the fields below and click the submit button.
We'll make sure to get back to you as soon as possible. The more details you can give us the better!
Alternatively, if you're in a hurry you can call us on 0800 8 402 403 and speak to one of our team.