Foamex Printing
Foamex is a superior quality and extremely versatile PVC foam sheeting that is great for printing onto. Foamex board has a really smooth surface, is easy to cut, drill, glue and even bend. All of which makes it perfect for foamex printed signs, advertising, displays and exhibitions.
Foamex board is also very light, durable and comes in a large range of sizes and colours.
Foamex Printing is ideal for:
Event signs
Contractor boards
Foamex Printing: how does it compare to Correx, Dibond and Acrylic?
All four materials are extremely good for printing onto – the vast majority of the work we do involves Foamex, Correx, Dibond or Acrylic. They are all very versatile and they all come in a range of thicknesses and colours. So how do you choose? This summary table might help:
Comparing the benefits of Correx, Foamex, Dibond and Acrylic
| | | | |
| --- | --- | --- | --- |
| Correx | Foamex | Dibond | Acrylic |
| Low cost | Low/medium cost | Medium | Higher cost |
| Functional quality finish | High quality finish | Premium quality finish | Premium quality finish |
| Can be scored and bent for lamppost signs for example | Can be heat bent and glued to make 3D point of sale and product display units | Can be cut and bent to form display 'trays' | Can be laser cut, routed and polishes as well as bent and glued |
| Matt finish | Matt, gloss and anti-graffiti laminate finishes are available | Matt, gloss and anti-graffiti laminate finishes are available | Matt, gloss and frosted finishes are available |
| Widely used for: security & safety signs, construction site signs, event notices, commercial property advertising, election/demonstration boards & plaques, | Widely used for: cut letter signs, point of sale signs, free standing display units, exhibition graphics, construction & safety signs, event signs, school and college display boards | Widely used for: hoarding boards, long term signage and tray signs | Widely used for: superior quality cut letter signs, interior and exterior building signs, way finding signage for schools, colleges, hospitals, hotels and businesses and display units |
Foamex thicknesses: 3mm, 5mm or 10mm?
Whatever thickness of Foamex board you choose it is very light so it can easily be fixed wherever you need it – for example it can be fitted to walls or hung from ceilings, slotted into frames or A boards.
As a guide, it's best to bear in mind that 3mm Foamex board is mostly used for indoor signs and graphics. It isn't really rigid enough for outdoor use. However 5mm or 10mm thickness sheets could be used outside if fixed to walls, fencing or display frames.
Easy to drill and screw, your Foamex graphics are light and can easily be stuck to walls using high bond tape or glue.
Foamex board features:
• Light and durable
• Waterproof
• Available in a huge range of colours
• Sheet sizes up to 10ft x 5ft
• 1, 3, 4, 5, 10 & 19mm thicknesses
• Can be printed on both sides
• Can be cut, bent and glued
Foamex uses
Here's a bit more detail about why Foamex printing is so good for all sorts of different uses:
Retail point of sale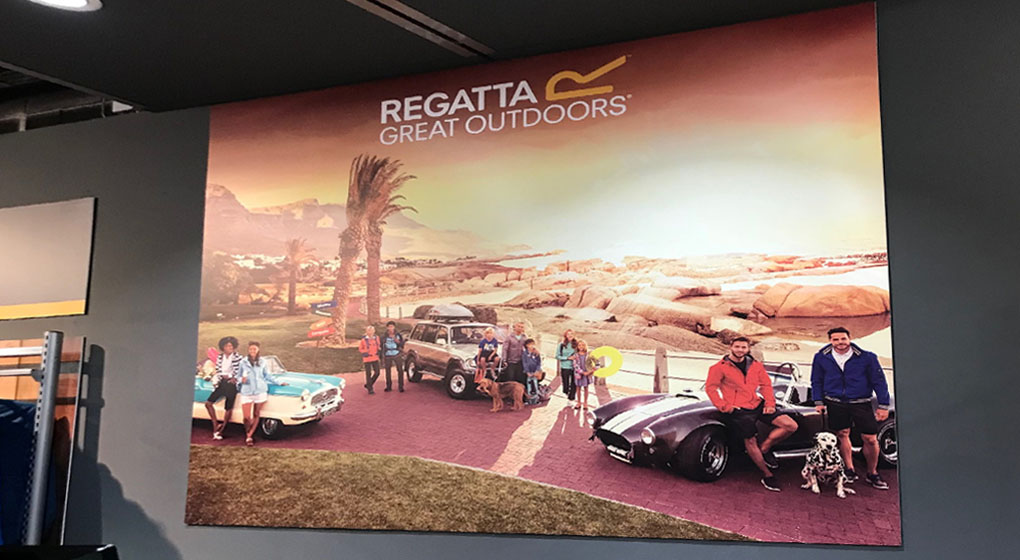 Retailers love using Foamex for their in-store graphics as well as point of sale signage because the print quality you can achieve with this material is fantastic. As a large format printing company, we love it too!
Our state-of-the art digital technology really gets the most out of this super PVC board. If your designs include images you'll be impressed by our high definition, photo-quality printing.
Every week we produce thousands of promotional Foamex board displays of all sizes and formats for our retail clients. Some of them are small, free standing strutted show card style graphics; others are very large to fill display bays and entire walls. And for those shop owners wanting maximum impact we also print and drill holes in large format Foamex so that it can be hung from wires, ropes or ribbons in windows or from the ceiling.
Exhibition graphics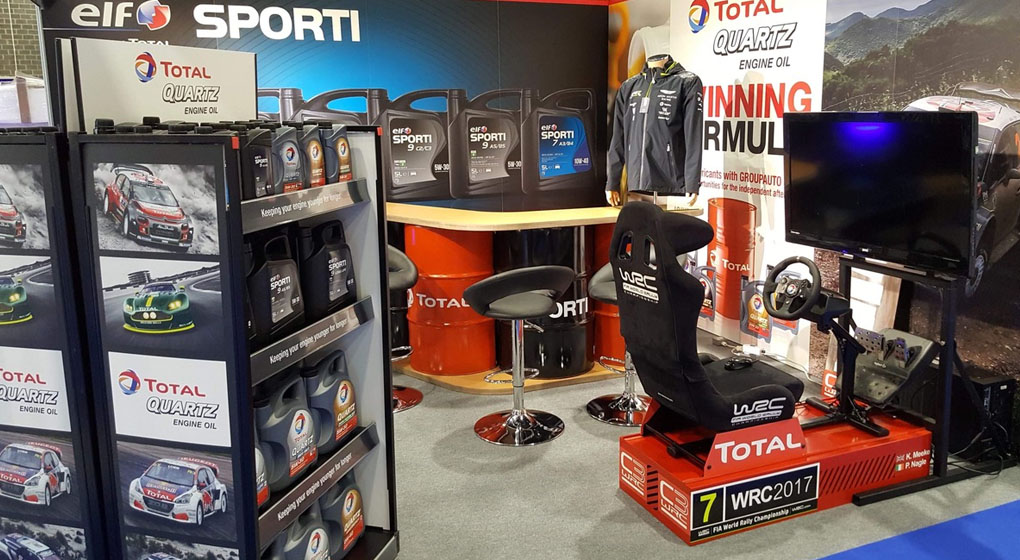 If you are looking for large, light graphics for your exhibition stand or shell scheme then look no further. Foamex is perfect because it will not only make the best of your designs but it is very easy to fix in place. It can be slotted into the stand frame itself or fixed using Velcro.
Event venue signs
Foamex printing is widely used for eye-catching advertising and promotions at visitor centres and event venues. Events managers often need lots of signs and graphics to direct visitors and promote their activities which is why we recommend Foamex because it's a good, economical option.
To achieve even better value and to maximise impact, bear in mind that it can be printed on both sides and cut to virtually any shape. Cut out, freestanding Foamex graphics are great event attention grabbers – our full sized character cut outs love posing for selfies!
Construction site signs
Getting all the important health and safety messages across on a building site can be a challenge. We understand it's not always easy for contractors to find places to fix your site signs and creating displays that are really noticed, is tricky too.
However, Foamex signs offer lots of opportunities to remind your team of the precautions they need to take. For example site safety or security signs can be inserted into free-standing display frames or we can drill holes so they can be fixed to fencing.
School and higher education signs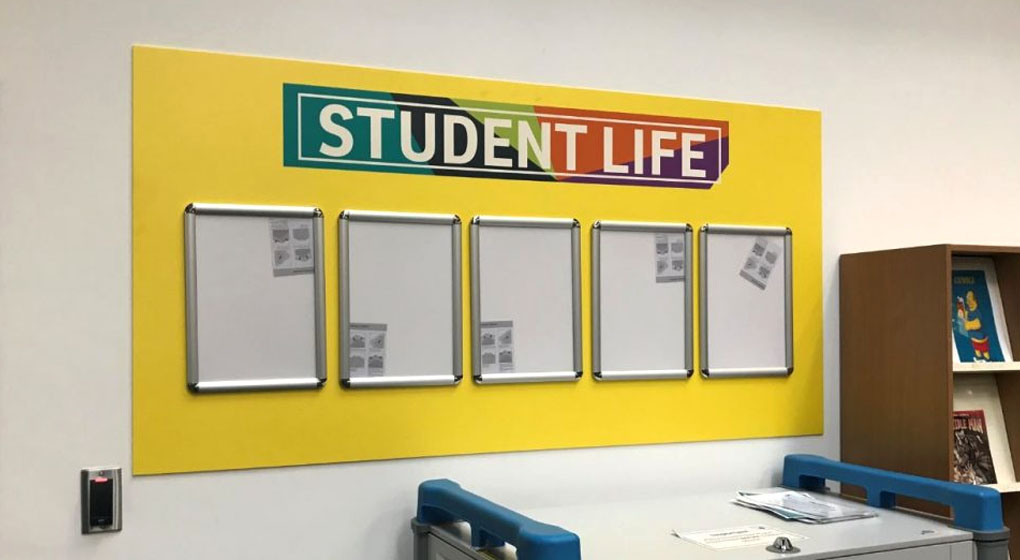 Foamex is highly rated and is used extensively throughout large organisations such as schools and colleges for wayfinding signage and information graphics. It can easily be mounted in frames or attached to internal walls and doors using screws, adhesive tape or Velcro.
Manufacturing or industrial graphics
Durability is an important factor for printed display materials and signs in an industrial or manufacturing environment. Foamex boards are incredibly durable. We have supplied information boards, safety and wayfinding signs for a broad range of processing plants and factories.
Foamex Printing: FAQs
What is Foamex?
Foamex is the brand name for a light weight, high quality PVC sheet that we use extensively for large format printing. It is made from expanded synthetic plastic foam which is compressed to make a strong, smooth, flat surface, ideal for printing onto. It is also known as foam board.
Is Foamex spongy?
Although it is made using expanded foam, Foamex is solid. The plastic polymer – PVC – is compressed to form a solid sheet which is hard to the touch and not spongy at all. The foam simply gives the sheets an open, cell-like, internal structure and ensures it is lightweight.
What is foamex board used for?
Because it is strong, durable and relatively low cost it is widely used for all kinds of large format printing for example it is perfect for signage, exhibition stands and display panels.
What are the benefits of Foamex?
The smoothness of the compressed PVC board makes Foamex an excellent substrate for printing onto. You can achieve high quality, visually pleasing signage and display products which look far more expensive than they actually are.
What Foamex board finishes are available?
Foamex has a matt finish but you can achieve gloss finishes by applying a laminate. We also apply an anti-scuff protective finish for signs or displays that need to be extra-durable, for example if they are to be used in a school corridor, busy retail unit or manufacturing plant.
If you're looking for a light, durable and cost-effective material that gives your signs and graphics a smooth, high-quality finish then we'd highly recommend Foamex.
"Fantastic attention to detail throughout from design implementation and printing to installation."

"We have worked with CSDPrint for many years now and always find their commitment to getting a job done on time and to the right standards really impressive. If we need any advice about any aspect of printing we know we can always turn to CSDPrint."
Talk to us today!
If you'd like to get in touch then you can use our simple contact form, please complete all the fields below and click the submit button.
We'll make sure to get back to you as soon as possible. The more details you can give us the better!
Alternatively, if you're in a hurry you can call us on 0800 8 402 403 and speak to one of our team.